Weill Cornell Medicine continues our commitment to lowering our students' debt by announcing our expanded financial aid program starting as of the 2019-20 academic year. Because of the generosity of our donors, Weill Cornell Medicine is able to offer debt-free need-based financial aid for students in our MD program who have demonstrated financial need. We will now be meeting full financial need with grant funding.
In the new program, Weill Cornell will meet the financial need of qualified students with grants, rather than loans. The following illustration depicts how this would work for a student with relatively high need: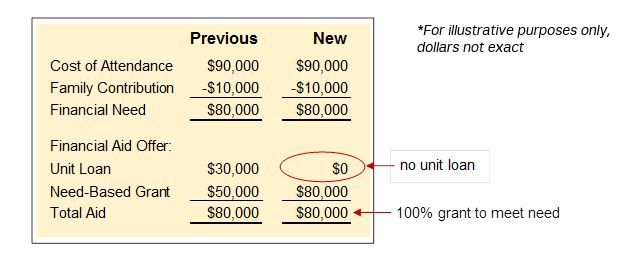 Frequently Asked Questions:
Who benefits from this program?
You are an MD student at Weill Cornell and you qualified for need-based aid from the financial aid application you submitted to the Office of Financial Aid.
What does this mean for current first year and returning students?
We will be replacing current MD student unit loans with grant funding for academic year 2019-20 and for each subsequent academic year. For academic year 2019-20, students are required to complete and submit additional paperwork needed to switch the unit loan to grant funding.
Does this expanded scholarship program cover just tuition or is it also for housing, living expenses, etc.?
The new program takes into account the full cost of attendance, so a student with the highest level of financial need will receive a grant to fund tuition, fees, room, board and personal expenses.
Does this mean I don't have to take any loans during medical school?
Students will still have the option to borrow federal or alternative loans to cover the family contribution or to meet other educational costs not included in the standard cost of attendance. However, removing the unit loan will drastically reduce the debt an individual student will incur.
Is the plan retroactive to cover students who matriculated before 2019? (e.g., would qualifying third-year students get debt forgiveness for loans incurred in their first and second years?)
This program will be for the current academic year and going forward. We will not be adjusting financial aid for any prior academic year.
Are you changing your need-analysis formula because of this program?
No, we are not changing our need analysis formula or process. The financial aid formula for determining financial need is an industry standard, and is compliant with federal Department of Education guidelines.
Will WCM be admitting fewer students because of the cost of this program?
No, we will not be decreasing our enrollment as a result of this program.
Can I meet with someone to review the changes to my financial aid?
Yes! We have set aside special appointment times for students to meet with us for additional details about their financial aid offers, financial aid application, and any changes to financial aid as a result of this new program. Email our office at finaid@med.cornell.edu to set up an appointment.
How is WCM able to offer this program?
Weill Cornell Medicine has had a long history of generous support from our donors and alumni for medical student scholarships.  This will remain a cornerstone of our fundraising priorities going forward, and we have been fortunate to have recently received leadership donations from some of our most generous supporters for this purpose.  These commitments are of sufficient magnitude to have enabled us to replace the unit loans entirely with additional scholarship awards – funded by private philanthropy – for all eligible students.