As a student at Weill Cornell Medicine, the Office of Student Accounting would like to provide you with an annual checklist that may be helpful in addressing common inquires.  
Health insurance Waiver
Health Insurance Waiver: At the start of each academic year, all students are assessed the health insurance premium for the fall term. You will need to submit the annual health insurance waiver if you do not intend to use the WCM provided coverage.  The Office of Student accounting sends you an email reminder each June to let you know the new enrollment period. Any student intending to waive coverage must complete the waiver process and all required documentation by the annual waiver deadline in September each year.
The following forms and activities are all accessible through LEARN.
Personal Information Update
Personal Information Update (PIU): It is important to keep your personal information current. If at any time you have a change in name or address, please submit a PIU through LEARN anytime your address changes.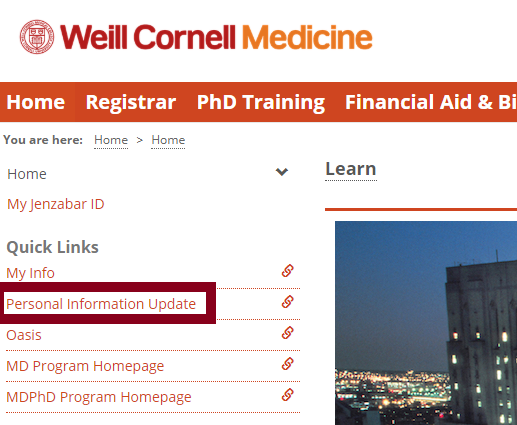 Third Party Sponsor Application
Third Party Sponsor Application: In order for the Office of Student Accounting to extend credit for  a third party or sponsoring organization please submit your written authorized letter from your third party/sponsoring organization each year. Once your request has been processed, the Office of Student accounting will forward all future term invoices to your sponsor. For more information, please see the Making Payments page on our website.
Creating/Updating a Refund Account
Enrolling/Updating your Direct Deposit Account in Nelnet: At the start of each term, you should verify that your refund account on file is accurate. This will ensure that any expected credit balance is process as expected. 
Complete the Student Services Survey
We would like to request less than two minutes of your time for feedback on your customer service experience with our office by completing the Student Service Survey.  If you complete the full survey you will be entered for a chance to win the annual WCM Swag Bag Gift.  The deadline to submit your survey for your chance to win is June 5, 2021.